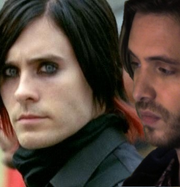 Marcus Devling
was the leader of the Daybreakers prior to
Nora Bat
. He belonged to the Speed Faction. How he came into power is unknown, but it's said that he wasn't a very confident leader.
Marcus was killed by a Nightcrawler during his sleep. It's unknown how the Nightcrawler found his safe house, but they were supposedly a target for a Daybreaker hunter before his death. It was decided by 'higher Daybreakers' that Nora would take charge.
Ad blocker interference detected!
Wikia is a free-to-use site that makes money from advertising. We have a modified experience for viewers using ad blockers

Wikia is not accessible if you've made further modifications. Remove the custom ad blocker rule(s) and the page will load as expected.